September 9, 2017
7 min to read
Birth, Blessing, Building
Dear Friends,
Greetings from the other side of the planet!
Life does not slow down! Things just keep getting more and more exciting every day! Our apologies for the late newsletter. Throwing a newborn baby into the mix of life changes everything! The many roles we have can be overwhelming at times. Husband, Father, Pastor, Worship Leader, Teacher, Administrator, Accountant, Publisher, Business Owner, Itinerant Minister, Mentor, Missionary, Friend, haha, the list goes on… The other day we said that "if we can do this with a two-year old and a newborn, then NOTHING will be impossible for us!" Haha!
Baby Jonathan
He's here! Meet Jonathan Michael Wilson. Jonathan was born on April 26th at 12:08am. If you all know Brandie, she was believing God for a water home birth as we had for Joshua. But at 37 weeks, Jonathan turned breech. We tried everything to get him to turn and were unsuccessful. Our attending OB/GYN was adamant about doing a c-section, but we believed that God had a better plan for mama. After having a wonderful, peaceful, natural birth with Joshua, we wanted the same for Jonathan. After meeting a specialist, she agreed to allow us to try to birth Jonathan normally and naturally! We were very encouraged. However, the doctor wanted us to be in the hospital in case of an emergency. This was something we did not budget for. God did a miracle in providing the money. To those who gave for the hospital fees, our family is forever grateful!
Brandie went into early labor on April 14th, the day before her due date, but didn't progress until 11 days later on the 25th! After nine hours after active labor at 12:08am on the 26th, we were holding our sweet little champion, Jonathan Michael! He was 7lbs 4oz and 21 inches long. The most precious sound to our ears was his first cry. We were both in tears! The hospitals here in the Philippines do not support women having breech babies. So many of the medical staff were in complete shock and amazement while attending the birth of our sweet son. They had never witnessed anything like it before. Brandie had only three hours' rest in our room before doctors, nurses, midwives, and staff were knocking on the door trying to meet this white lady who gave birth to a breech baby naturally, haha! Brandie says it was the most difficult thing she has ever done, but oh so worth everything. The doctors and residents were amazed and kept saying that she is one strong, amazing woman! We are grateful for what God is doing here. We are also missing home and missing our families all the more during these special times and seasons in our life. We will be flying to Manila in September to process Jonatha's birth certificate and passport. We are hoping to make a trip to the USA mid 2018 for fund raising and so the family can finally meet their new addition!
Ministry Updates
One of the main reasons we are here in the Philippines is to release the Culture of Heaven and the Kingdom of God. This is our passion, to see lives transformed through encountering God's love and His Kingdom. We seek to accomplish this through many avenues: Life Church, Destiny House, Ministry School, Outreaches, Feeding Programs. We would like to share a few updates with you about these ministries.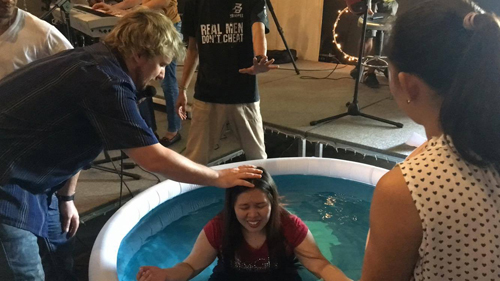 Life Church
We have just completed our three month Kingdom Culture Series at Life Church.
June was #freedomlife "Culture of Freedom" 
July was #celebratelife "Culture of Celebration & Joy" 
August was #honorlife "Culture of Honor" 
September is #createlife "Supernatural Creativity"
Life Church will be having our very first Supernatural Creativity Conference on September 30th! Our goal is to empower people to bring glory to God and to release His kingdom in and through their lives using their God given creativity. We had our first baptism ON-SITE at Life Church. We have had more Indians from India give their heart to the Lord. It is amazing to hear the testimonies week after week of the impact powerful group of world changers are making around the Philippines!
School of Supernatural Ministry
We have been spending a significant amount of time with our leadership team at LIFE Church, pouring into them. We have been holding Bible studies, spending strategic time together, and dreaming together too. We are encouraged by these beautiful Filipinos! We can not express enough of our deep desire to see them succeed at the things God has put in their hearts to do. It makes us so proud to see them fulfill the call of God on their lives.
One thing we are really excited about is establishing a ministry school here in Davao City. It is a big dream of ours. But we are needing as much help as possible in this huge assignment. We have applied for the intern program through BSSM in Redding, CA and are waiting until the next school year to hear updates. We are very excited to begin the process of building a foundation for a School of Supernatural Ministry here in Davao! This will require a lot of prayer, finances, resources, and people to make this happen. One of the very first steps is to order the BSSM Adminstrators Manual from Redding. The cost for the manaul alone is $500 USD! The total startup cost for first and second year is estimated to be $15-20,000!
Nothing is impossible with God! Where God guides, God provides! Is God calling you or someone that you know to help us lay the groundwork for a ministry school here in Davao Philippines? You can be a part of this by giving your time, talent and treasure and by supporting us in prayer. 
Feeding Program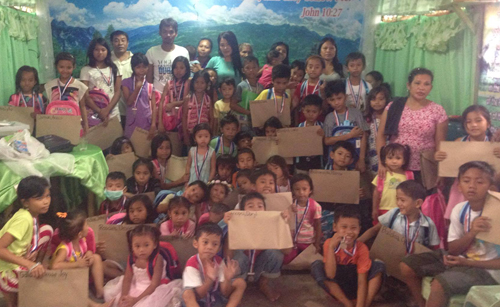 We have been visiting a small community in Panacan (about one hour away) feeding and teaching children about Jesus. We were also able to raise support for buying school supplies and backpacks for all 50 children in our feeding program for this coming school year. They were each blessed and overwhelmed. Some parents and children cried as they received their gifts. Something so simple to us, can be an overwhelming blessing to someone else!
We are looking to start a feeding program at Life Church very soon. We also dream of someday owning our own church vehicle that could transport 20-30+ kids to and from the church for our feeding program. If you or someone that you know is interested in investing in a vehicle for church use, please let us know! We would be able to reach so many more for Christ!
Air Con

Praise God! A HUGE prayer was answered for us and for our church! We have been so blessed to be able to have air conditioning installed and working in our church now! No more dripping down sweat every time we meet! We are blessed to be able to keep cool as we worship, meet, and even eat together at the church. We look forward to hosting more people and events in our cool (literally) facility. Ha!
Uprising Philippines
Our region of the Philippines (Mindanao) has been under Martial Law since the invasion of an ISIS linked terrorist group in the city of Marawi. This city is a few hours drive from Davao and has been under siege for several months now.
We are very excited to be part of an event in September called UPRISING (United Prayer Rising). We will be helping with worship as well as other aspects as needed. Most big events happen or are birthed from Manila, but this event is strictly birthed in and for Mindanao. We have had multiple prophecies from Cindy Jacobs about the revival coming to Mindanao and we believe that this is part of the fulfilment of this prophecy. We have both had visions of fires starting all over Mindanao, reaching every area of the Philippines, engulfing the world. Will you please pray as we gather all people from around the world to pray for revival in the Philippines. Pastors and believers will be gathering for a united prayer meeting that is to focus on releasing heaven on earth, here. Pray for extreme favor and God's glory to encounter His people through signs, wonders, miracles, and radical love.
Thank you for your continued love and covering in prayer and financial support of Love International.
God is on the move here in Mindinao! Dreams are coming true. Lives are being changed and impacted for the Kingdom!
Our desire is to raise up Filipino revivalists and world changers who will be sent out across the globe to release the Kingdom of God! You are a part of making this a reality! Thank you!
 In His Presence,